Why Choose Wesley
With access to a wide range of subjects with an emphasis on English, Mathematics, and Science, students are able to identify and develop their interest in various subjects, and strive to train themselves in problem solving, critical, and creative thinking.
Students are guided towards their selection of subjects for Year 10 & 11 (IGCSE) from blocks of subjects allowing students to choose combinations that best suit their tertiary education. WMSPI Secondary also continues to offer HSK Mandarin in Key Stage 3. In Key Stage 4 (IGCSE), students are given an option to sit for First Language Chinese, Chinese as Second Language or Mandarin Chinese as Foreign Language in IGCSE.
The Secondary school also offers English Support Programme, a programme to scaffold and bridge students' learning to enable them to develop proficiency in the English Language. It provides tailored tutorials to meet the needs of individual students.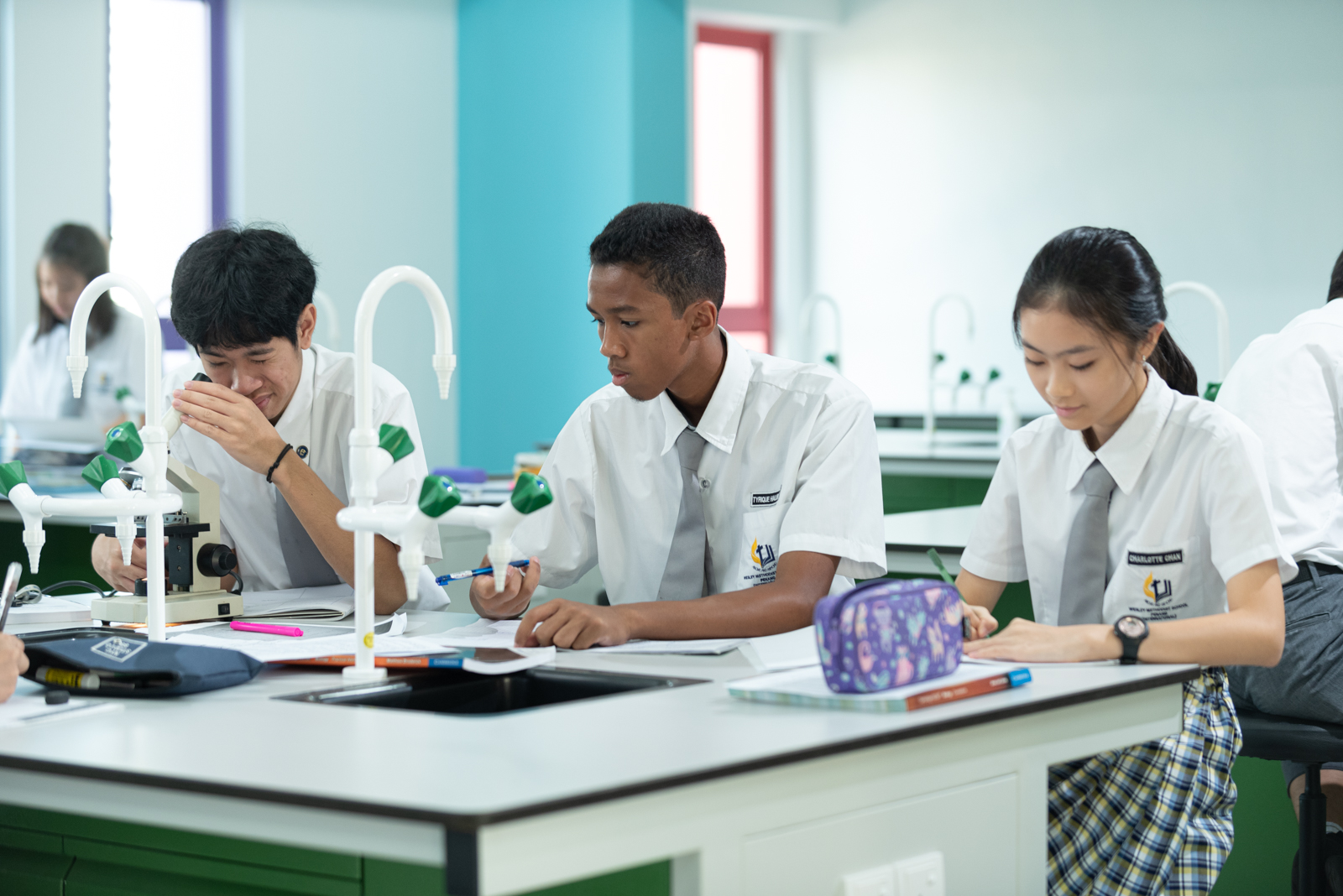 Curriculum
Subjects
Year 7 – 9
English
Mathematics
Science
Bahasa Melayu
Mandarin
Moral Education
ICT
History
Geography
Art
Music
Drama
Computer Science (Y7 & Y8 only)
Physical Education
Co-curricular Activities
Bible Knowledge
Year 10 & 11
Compulsory:
English
Mathematics
Science (either Biology, Chemistry or Physics)
Language other than English (Chinese and/or Malay)
Moral Education (non-IGCSE)
Physical Education (non-IGCSE)
Co-curricular Activities (non-IGCSE)
Electives:
Sciences: Biology, Chemistry, Physics, Additional Mathematics
Humanities: Economics, History, Geography, Sociology
Technical & Vocational: ICT, Art & Design, Music, Accounting, Business Studies
Academic Support Programme:
ASP (Academic Support Programme) and ESP (English Support Programme) for students who need extra support for specific subject(s) or the English Language. This is offered based on advice by the Principal at a fee.
Entrance Assessment
Before being enrolled into our school, applicants for the Secondary Curriculum are required to sit for an entrance assessment. Subjects that will be tested on are English, Mathematics, and Science, and will take 2 hours to complete.
Clubs
In order to cultivate an all-rounded individual, we offer a variety of clubs and societies for our students to choose from, be it clubs, sports & games, or uniform bodies.
Interests CCA
Art & Craft Club
Astronomy Club
Board Games Club
Calligraphy & Painting Club
Christian Fellowship
Commerce Club
Computer Club
Drama Club
English Language Society
French Language Society
German Language Society
Japanese Language Society
Korean Language Society
LEO Club
Mathematics Club
Photography Club
Science Club
Maker's Club
Sports CCA
Badminton Club
Basketball Club
Chess Club
Dance Club
Fencing Club
Floorball Club
Football Club
Frisbee Club
Swimming Club
Table Tennis Club
Taekwondo Club
Karate Club
Netball Club
Volleyball Club
Uniform Unit
Boys' Brigade
Girls' Brigade
St. John Ambulance
School Orchestra
In Pursuit of Excellence
Strong Academic Performance and Excellent Character
Trained in Problem Solving and Critical Thinking

Flexibility in Choosing Elective Subjects

Balancing Formal and Informal Education

Nurture and Train Social Skills for Future Life
Want to Enrol?
We are looking forward to welcoming you to Wesley Methodist School Penang (International)! Kindly drop your details for us to get in touch with you. Feel free to make an appointment to visit our schools and talk to us. We are happy to give you a tour of our school facilities.
See you in school!